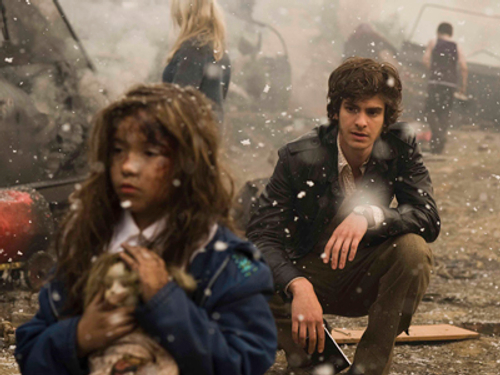 IFC
has a few cool things in their pot this year and one is Red Riding!
Red Riding
is in a trilogy format and all 3 will hit theaters on February 5th in New York at the
IFC Center
. Afterwards during the week of February 12th all 3 films will expand their theatrical run over to Los Angeles and hopefully will spread from there! It's up to the fans again like PA! The
Red Riding Trilogy
will be available OnDemand starting February 3rd!
Synopsis:
Sure to be one of the cinematic events of the year, RED RIDING is a mesmerizing neo-noir epic based on factual events and adapted for the screen by Tony Grisoni (FEAR AND LOATHING IN LAS VEGAS) from David Peace's electrifying series of novels revolving around the manhunt for the "Yorkshire Ripper," a serial killer who terrorized northwest England in the 1970s and 1980s. The three films are directed by three notable filmmakers — Julian Jarrold (BRIDESHEAD REVISITED), James Marsh (MAN ON WIRE), and Anand Tucker (SHOPGIRL). Each boasts a stellar British cast that includes Andrew Garfield (THE IMAGINARIUM OF DOCTOR PARNASSUS), Sean Bean (LORD OF THE RINGS), Paddy Considine (DEAD MAN'S SHOES), Rebecca Hall (VICKY CRISTINA BARCELONA), and Peter Mullan (TRAINSPOTTING). The RED RIDING TRILOGY screened at the Telluride and New York film festivals and will open in New York on Friday, February 5, at the IFC Center with a national release to follow. It will simultaneously be available on IFC Films' video on demand platform, available to over 50 million homes in all major markets.